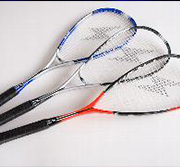 Positioning
Play more Effective Strokes by getting to the "right" position. Why do some shots go straight and others cross-court? It's all about your position relative to the ball.
Shortest Route
Under pressure we take the shortest route to get to the ball but depending on our position, the direction and power of our strokes are dramatically affected. It is possible to hit the ball in a different direction but the power and accuracy may be affected
Straight Drive
Stand facing the side wall and strike the ball between your front foot and the side wall. RESULT The ball travels parallel to the side wall.
Cross Court Drive
Line up your shoulders with the front corner furthest away from you. So if you are on the left of the court and you are right handed, face the left hand corner. Line up your shoulders with the far right, front corner. Strike the ball, when it is between your right foot and the front left corner. RESULT The ball will strike the middle of the front wall, rebounding to the back right corner.
Don't get Too Close to the Ball
Modern advice is to move directly to the ball, then reposition yourself to aim the ball where you want it to go. The most common fault in all players is getting too close to the ball.